Start Your Landscaping Business with a Solid Business Plan
From grass to gardens and everything in between, you have the know-how to keep a lawn looking healthy and attractive. But even the best landscaping skills don't necessarily translate into business acumen. If you want to stand out from the competition, you need a business plan for landscaping that shows you're serious about success.
The demand for landscaping designers is booming, with creative lawns popping up everywhere from corporate office parks to residential neighborhoods. But with so much competition, how can you ensure your business stands out from the crowd?
Fortunately, the landscaping services industry is growing at an impressive rate. According to IBIS World's Landscaping Services Industry Report, the size rose by an average of 2.5% between 2016 and 2021, hitting a value of $105.1 billion in 2021. That means there's plenty of potential for entrepreneurs who have the right ideas, a solid business plan, and the determination to make their dreams come true.
Turn Your Creative Vision into a Reality with Landscaping Business Funding
If you have a knack for landscaping and an eye for beauty, you may be sitting on the perfect business opportunity. All you need is a little bit of groundwork and a detailed business plan for landscaping to get started. With the right plan, you can secure the funding needed to turn your creative vision into a reality.
Don't let your landscaping skills go to waste—start your business today and make your mark on the industry.
Creating a Landscape Company Business Plan to Set Your Business Up for Success
A landscape company business plan is an essential tool for launching your business. It's a detailed overview of your landscaping operation that outlines your growth strategy for the subsequent five years. It also highlights your company's goals and your plan for achieving them, so it's important to create one in order to set your business up for success.
What Can a Landscape Company Business Plan Do for You?
Creating a plan for your landscaping company can help you:
Estimate your initial setup expenditures
Obtain a complete picture of the services that you offer
Define your target market
Analyze your competitors
Set your pricing strategy
Create an effective marketing strategy
Estimate overall financial costs and forecasts
A well-crafted business plan can help you navigate the waters and make sure you're on the right track. Investing the time to create a plan that properly outlines your goals, strategies, and estimated costs will help you grow your business and avoid costly mistakes.
Creating a Business Plan for Landscaping
If you want your landscaping business to stand out amongst the competition, then creating a detailed business plan is a must. Let's explore the key elements of a successful landscape company business plan.
Executive Summary
The executive summary serves as an introduction to your business plan. Though it usually comes last in the plan, it is the first thing potential investors will read. It's important to keep this section concise and informative, and make sure to include the following:
Mission statement
Business description
Leadership and employee count
Location of your business
Services offered
Why you'll be successful
Your goal is to capture the reader's attention with the executive summary. Describe what kind of landscaping business you are running, whether it's a startup, an expansion, or a franchise. Also, make sure to emphasize why your landscaping business is special and why it will be successful.
Discovering Our Edge: Unveiling the Secrets of Our Successful Landscaping Business
We launched our landscaping business in 2021 with a mission to provide the highest quality landscaping services in the industry. Our team of landscaping professionals has decades of experience in the industry, giving us the competitive edge to take on any challenge. We focus on filling market gaps to serve a niche audience, and our current accomplishments are proof of our success.
Our business structure is an LLC, and we specialize in a variety of landscaping services. We offer commercial landscaping services to corporate companies, government buildings, and universities. Our residential services maintain lawns of single-family homes and apartment buildings. We also offer landscape design services, building sidewalks, patios, fences, ponds, terraces, and walls used in landscaping constructions. Lastly, we provide arboricultural services such as growing and managing a single tree or a group of trees in a confined region, as well as tree surgery and felling.
The Benefits of Working with Our Landscaping Business
Decades of Experience: Our team of landscaping professionals has decades of experience in the industry, giving us the competitive edge to take on any challenge.
Filling Market Gaps: We focus on filling market gaps to serve a niche audience.
Accomplishments: Our current accomplishments are proof of our success.
Variety of Services: We specialize in a variety of landscaping services, including commercial, residential, landscape design, and arboricultural services.
Our landscaping business is committed to providing the best services in the industry. We have the knowledge and experience to help you create a beautiful outdoor space that you can be proud of. Let us help you transform your dreams into reality.
Understanding the Landscaping Industry: A Comprehensive Guide
Conduct an Industry Analysis
Conducting an industry analysis is the best way to gain insight into the strengths and weaknesses of your competitors. This can be done by browsing through their online reviews and ratings, or by talking to people who have used their services. Understanding the advantages and disadvantages of your competitors can help you make well-informed decisions about your business.
Questions to Ask Before You Begin. Your lawn care business plan's industry analysis section needs to address questions:
How large is the landscaping market?
Has the landscaping market grown or declined recently?
Who are the biggest market competitors?
Who are the industry's major suppliers?
What trends are influencing the landscaping sector?
What are the landscaping industry's growth projections for the next 5 years?
What is the magnitude of your company's potential market?
By taking the time to answer these questions, you will be able to gain a better understanding of the industry and create a business plan that is tailored to the landscape sector. With the right strategy, you will be able to position your company as a leader in the industry and make it a success.
Unlock the Secrets of Your Customer Base: A Guide to Customer Analysis
Are you launching a landscaping business? Before you get started, it's important to do the work of analyzing your customers. Different groups of customers require different approaches and understanding their wants, needs, and behaviors will help ensure the success of your business.
Categorizing Your Customers
When it comes to landscaping, customers can generally be broken down into three main groups: households, commercial establishments, or millennials and baby boomers. It's essential to know which customer group you plan to target, as the landscaping business you run will vary depending on the audience. It's important to consider the demographic and psychographic attributes of your target market segment, as this will help determine their interests and demands.
Understanding Demographic Information
In addition to the psychographic information, you should also include a section in your customer analysis specifying the age, gender, region, and income ranges of the clients you plan to target. This demographic data is generally easy to find on government websites, as landscaping firms usually serve the local area.
Don't forget to consider the unique attributes of your target customers when crafting your landscaping business plan. Doing this will ensure that you are better prepared to attract and retain customers.
Competitor Analysis
Your landscape company business plan must include a competitor analysis section that covers both your direct and indirect competitors. Your direct competitors are other established landscaping businesses in your region, while indirect competitors are alternatives to landscaping companies that customers might choose from, such as DIY platforms. It's important to denote such competition to highlight that not everyone employs a landscaping company to maintain their yard.
Direct Competitors
Your direct competitors are the other landscaping companies with whom you compete in your neighborhood. Provide a brief overview of these competitors and highlight their advantages and disadvantages. You'll want to gather important information such as:
Who are their typical clients?
What are their products and services?
How much do they charge?
What do they specialize in?
What are their limitations?
Competitive Edge
The last portion of your competitor analysis should describe your competitive edge and how you intend to outperform your opponents. Some questions to consider in this section are:
Will you offer landscaping options that aren't covered by your rivals?
Will you streamline the scheduling process for customers?
Will you deliver better customer support?
Will you provide affordable rates?
List any tactics that you come up with in this section of your landscape company business plan. By exploring your competitors and their weaknesses, you can develop an effective strategy for standing out in the market.
Services and Product Offering
Your landscaping company business plan's section on services and product offerings is where you tell your readers how you intend to generate revenue through your business. This is the time to show off your creativity and knowledge of the industry by describing the services you offer and how you plan to price them.
Services Offered
Landscaping businesses provide solutions beyond just lawn maintenance. Here are some of the services you can offer:
Installing mulch or sod
Planting flowers and other crops
Fertilizing
Pest management
Weed control
Pruning
Hedging
Installing an irrigation system
Landscape architecture
Lawn maintenance
Pricing Strategy
Your pricing strategy is the foundation of your business, so it's important to be strategic and thorough. Consider the cost of materials, labor, and overhead, and make sure you're charging enough to make a profit. Be transparent with customers so they know exactly what they're paying for.
Duration of Services
Include details on the length of time it will take to complete each service. This will give customers a clear timeline and help you plan your workload.
What Makes Your Products Unique
Your services should offer something that no one else does. It could be expertise, quality, speed, or something else entirely. Offer something that sets your business apart from the rest.
Marketing and Sales for Your Landscaping Business
Your business plan for landscaping should have a marketing and sales section that describes to readers how you'll attract and retain customers. You can acquire fresh leads and create strong bonds with existing customers using several landscape marketing techniques.
A marketing plan typically includes the four P's: Product, Price, Place, and Promotion. Your lawn care business should incorporate the following marketing strategy:
Product
In this section, you should repeat the landscaping business types you outlined in your Company Analysis. Then, elaborate on the specific services and products you will be providing, comparing them to your competitors' similar provisions.
Price
Create a comparison chart of the rates you and your competitors provide.
Place
Your landscaping company's location is referred to as its place. Explain where you are located and how your location will benefit your business.
Promotion
In this section, you will describe your marketing strategy for attracting prospective customers to your company. Here are some ideas for promotion:
Advertising in regional publications
Collaborating with local bloggers and media houses
Flyers and banner ads at local venues
Radio broadcast commercials
Pay-per-click advertising
Social media marketing
Email marketing
An affiliate Program
Securing a Yelp Business Page
A listing on Google Business
Search engine optimization
Content marketing
Your marketing plan must also include a user-friendly website. It will act as the online persona of your business. The bulk of marketing strategies will lead prospective clients to your website.
With so many options, it can be hard to know where to start. To make it easier, focus on the channels that offer the best return on investment. For example, you can use email marketing and social media to reach a large audience at a relatively low cost. You can also use content marketing to support your other efforts by producing helpful blog posts, videos, and other resources.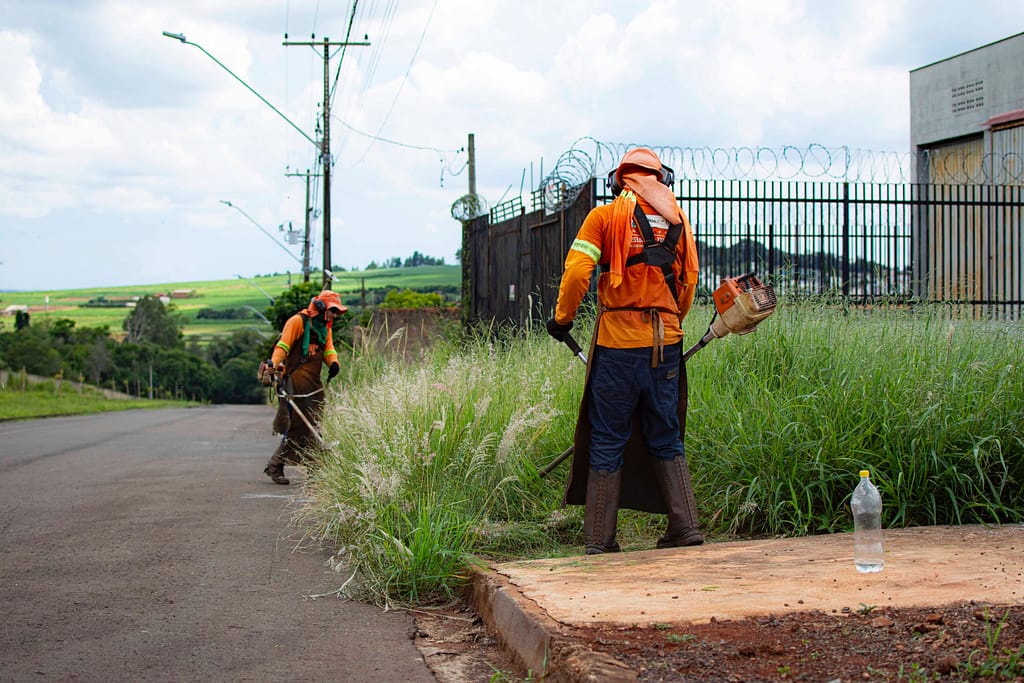 Select the best marketing techniques, develop a strategy, and summarize them in this section. Describe how you intend to improve your company's lead generation and customer credibility, retain clients, and reward their loyalty.
Operations plan for a landscaping business is how you will ensure you reach the objectives you set out in the early stages of your business plan. Divide your plan into short-term and long-term goals:
Short-term goals are the daily processes needed to operate your lawn care company, such as customer service, ordering supplies, and maintaining equipment.
Long-term goals are the milestones you want to reach, such as servicing your 1000th customer, reaching a sales target, or expanding operations to a new location.
The Management Team
A successful landscaping company needs a strong management team. Make sure to emphasize the qualifications and experience of your key players, especially those who demonstrate their ability to grow the business. If you or any of your team have professional landscaping experience, be sure to feature that prominently. Also, highlight any relevant skills or expertise that you or your team have that will help your business flourish.
If your team is inexperienced in the landscaping sector, you may want to consider forming an advisory board. An advisory board of 2-6 people can act as business mentors, offering advice and strategic guidance. When choosing board members, look for people who have run small and medium-sized businesses or landscaping companies.
Financial Plan for Your Landscaping Business
Are you interested in starting business? It takes more than just a green thumb to make a successful business out of landscaping. You need to have the right plan in place to ensure that your business is profitable. This includes creating a financial plan that provides reliable financial forecasts for your business.
What Does a Financial Plan Include?
Your financial plan needs to have a 5-year financial statement segmented monthly or quarterly for the initial year, followed by an annual statement for the next 4 years. This financial plan should include an income statement, a balance sheet, and cash flow statements.
Income Statement
An income statement (also known as a profit and loss statement) is used to list your earnings and subtract your expenditures to determine whether or not you are making a profit. When creating your income statement, it's important to be aware that your choice of estimates will have a major impact on your financial projections. Doing extensive research is necessary to ensure that you can back up your claims.
Balance Sheet
Balance sheets contain a lot of information, but you can break it down into essential components such as assets and liabilities to make it easier to understand.
Cash Flow Statement
A cash flow statement can help you estimate how much capital you'll need to start or expand your business, and ensure that you always have enough funds. Without a cash flow statement, many entrepreneurs run out of funds and go bankrupt.
Include the Right Costs
When creating an income statement and balance sheet for your financial plan, be sure to include the following costs:
If you are seeking financial assistance from a service provider, you should also include a funding request in your financial plan. Mention the amount of funding you'll need, your plans for the financing, and the expected time frame for your business to become profitable. The amount of your initial investment, your ability to set reasonable rates, and how quickly you can increase your client base will all factor into when you can become profitable.
Creating a Successful Business Plan for Landscaping
Before starting your landscaping business, it is in your best financial interest to create a business plan. It will act as the business' backbone and serve as a blueprint for your decisions moving forward. If you adhere to the structure provided, you will be a true expert by the end. You'll thoroughly understand the landscaping market, your competitors your customers. You will also have a marketing strategy in place and fully grasp what it takes to establish and expand a lucrative landscaping business.
Tips to Create a Business Plan for Landscaping
Creating a successful business plan for landscaping doesn't have to be overwhelming. Here are a few tips to assist you in creating a straightforward and successful business plan:
Keep it brief and simple: Having to read a 50-page business plan can be exhausting.
Be clear about your goals: Your business goal should be mentioned in your business plan. Define your long-term objectives and what makes your company stand out from competitors.
Be reasonable: Refrain from making too many promises and not delivering on them. Make realistic estimates and goals.
Do extensive research: Ensure that you are well informed about your landscaping business and your competitors.
Seek support Make sure to look for online or offline resources to assist in creating your business plan if you are unsure of where to begin.
With a thorough business plan for landscaping to guide you, you can fearlessly cross the unfamiliar territory. Once you've developed your landscaping company business plan, you can get your business started right away – and include your financial estimates in the appendix of your business plan with any additional materials that can strengthen your position.