Chiles Capital: Tailored Lending Solutions for Modern Entrepreneurs
Simple Fast Loans for Your Immediate Needs
In the fast-paced world of business, opportunities don't wait. That's why we specialize in simple fast loans that are designed to meet your immediate financial requirements. Whether you're looking to expand, invest in new equipment, or cover unexpected expenses, our streamlined application process ensures that you get the funds you need, when you need them.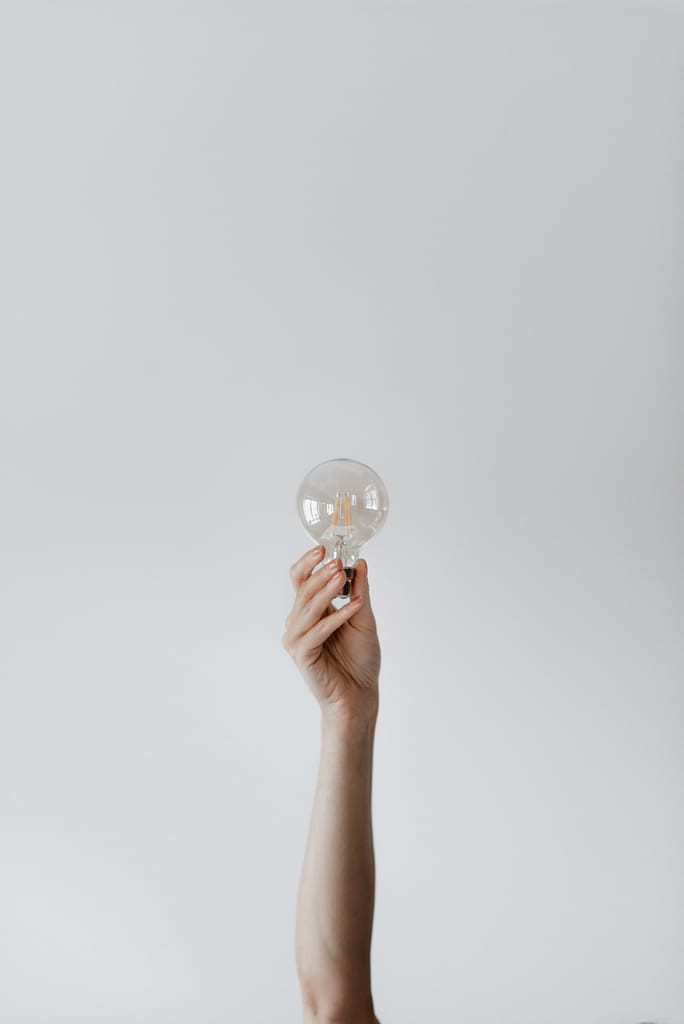 Creative Financing for Innovative Entrepreneurs
At Chiles Capital, we know that innovation isn't one-size-fits-all. Neither should be your financing. We're more than a lender; we're partners in your business growth, bringing you:
🔹 Alternative Lending Options: Traditional lending not cutting it? Our alternative lending solutions offer the flexibility and creativity that innovative entrepreneurs crave. Break the mold with financial options that support your unique vision.
🔹 Customized Repayment Plans: Your business is one-of-a-kind, and your repayment plan should be too. We craft personalized repayment structures that align with your business's cash flow, allowing you to focus on what you do best – innovating.
As a boutique brokerage specializing in creative financing solutions, Chiles Capital provides innovative and flexible financing solutions tailored to entrepreneurs. With personalized service, quick response times, and financial packages that traditional lenders can't match, we're here to fuel your entrepreneurial fire.
Ready to turn your innovative ideas into thriving success?
Business Loans to Fuel Your Growth: Drive Your Ambition with Chiles Capital
Entrepreneurial dreams need the right financial vehicle, and Chiles Capital is here to put you in the driver's seat:
🔹 Types of Business Loans: From term loans to lines of credit, our diverse range of business loans is tailored to fuel your company's unique journey. Whether it's starting, expanding, or innovating, we've got a loan to match your ambition.
🔹 Competitive Interest Rates and Terms: Your success deserves a fair ride, and our competitive interest rates and terms ensure a smooth journey. Experience lending that's not only cost-effective but also aligned with your business's financial rhythm.
Start your engines with Chiles Capital's business loans, where we put your growth in the fast lane. Ready to accelerate your success?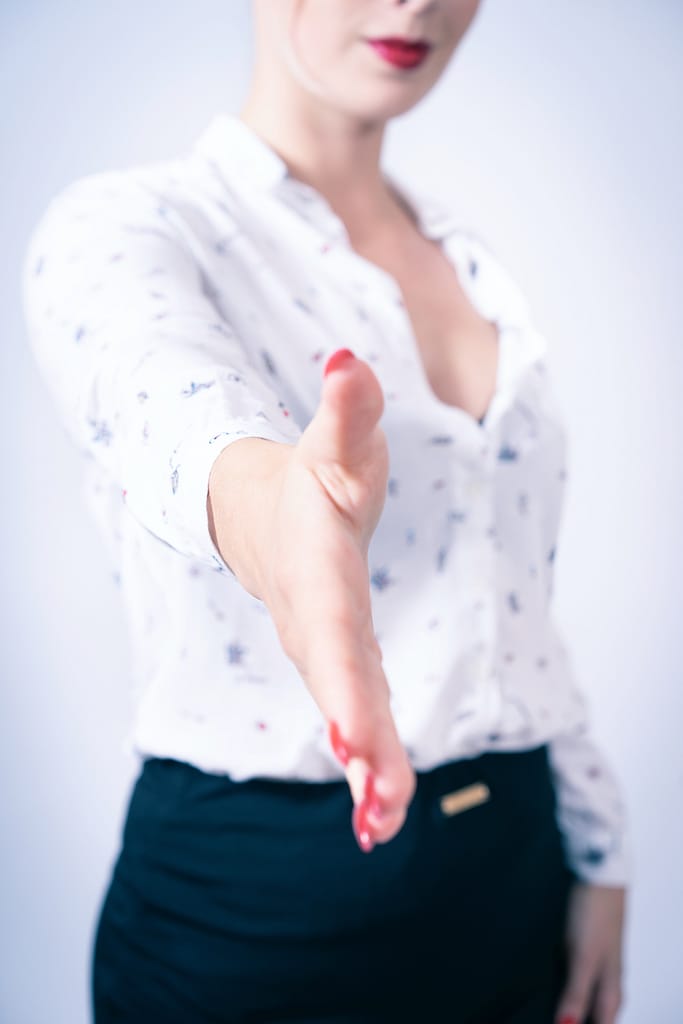 Why Choose Chiles Capital For Your Next Business Loan?
Choosing a financial partner for your business is a critical decision that requires careful consideration. It's about finding the right balance and alignment with your goals. At Chiles Capital, we understand this dynamic and have crafted our services to provide the optimal blend:
Expertise in Alternative Lending
Innovation is at the heart of what we do. Our team of financial professionals has developed an array of alternative lending options tailored to the unique needs of today's entrepreneurs. We don't believe in one-size-fits-all solutions; we believe in innovative and flexible lending that supports your growth.
Nationwide Reach
Whether you're based on the east coast, west coast, or anywhere in between, our nationwide reach enables us to be there for you. We are committed to supporting businesses across the country, ensuring that our expertise in alternative lending is accessible, regardless of your location.
Personalized Business Consulting
Your business is unique, and your financial strategies should be as well. We invest the time to understand your individual goals and challenges. By offering personalized business consulting services, we ensure that our financial guidance is aligned with your specific needs, not a generic template.

Quick and Hassle-Free Loan Process:
Time is a precious commodity in business. We've streamlined our processes to make them quick and hassle-free, allowing you to focus on what you do best. From application to approval, we've cut through the bureaucracy to deliver efficient and responsive service.
Advisory & More: Expand Your Business Empire
Expert Guidance for Your Business Transactions
Navigating the complex world of acquisitions and sales can feel like traversing a financial maze. But with Chiles Capital, you don't have to go it alone.
🔹 Expert Advisors: Our seasoned advisors bring a wealth of experience and insight to the table. Equipped with deep industry knowledge and a keen understanding of market dynamics, they stand ready to guide you through every decision, big or small. At Chiles Capital, expertise isn't just a buzzword; it's our commitment to you.
🔹 Assistance with Acquisitions or Sales: Whether you're looking to acquire a new asset or sell an existing one, our team is here to simplify the process. From valuation and due diligence to negotiation and closing, we provide hands-on support tailored to your unique needs. It's about more than just getting the deal done; it's about ensuring that every transaction aligns with your broader business objectives.
Trust in Chiles Capital for a partnership that goes beyond mere transactional support. With us, you gain a strategic ally committed to your success. Because when it comes to the financial journey of forward-thinking entrepreneurs, every detail matters, and every decision counts.
Connect with an Advisor to explore how we can empower your next acquisition or sale.
8 Questions to Ask Your Commercial Loan Broker
Real Estate Investment Loans: Funding Your Vision
At Chiles Capital, we understand the diverse financial needs of real estate investors:
🔹 Funding Amounts: From smaller investment properties to large-scale commercial projects, we offer a range of funding amounts tailored to fit your specific real estate goals.
🔹 Equity and Debt Financing: Whether you're seeking equity financing to share ownership or debt financing for borrowing capital, our innovative solutions are designed to align with your investment strategy.
Your next real estate venture deserves a financial partner who gets it. Connect with Chiles Capital, where tailored alternative lending solutions fuel your growth and success.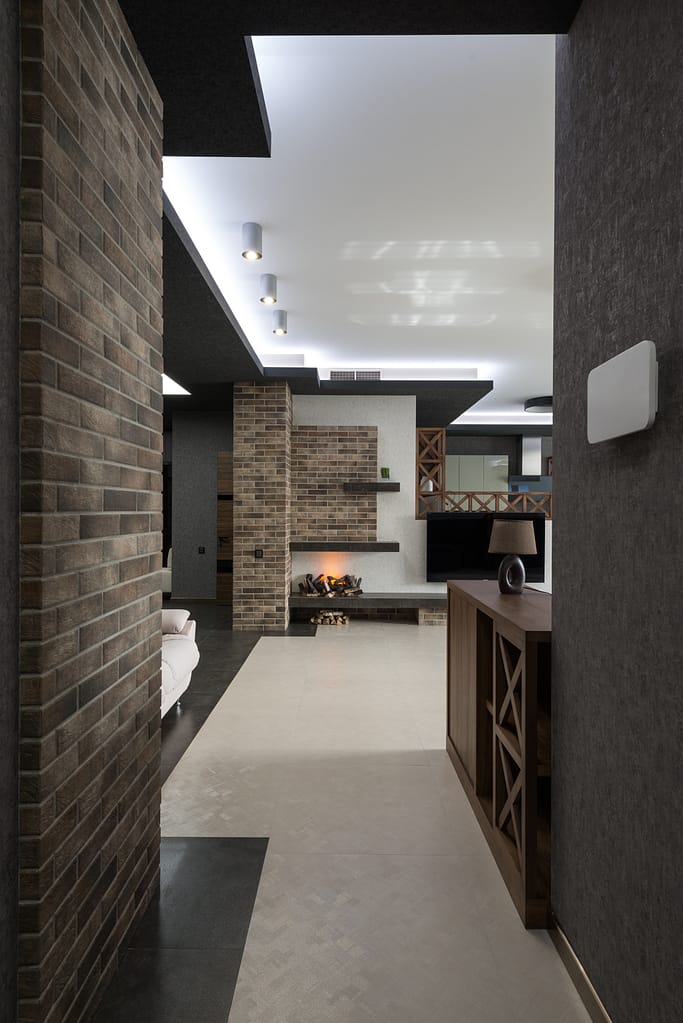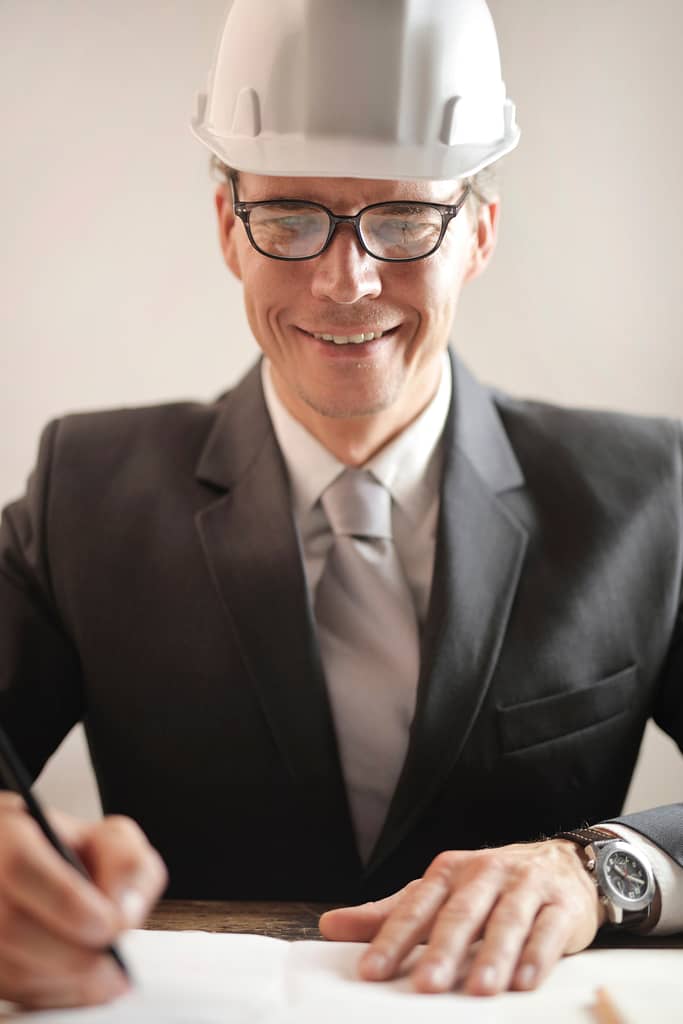 Small Business Financing Options: Fueling Your Ambitions
At Chiles Capital, we believe in empowering small businesses with financial solutions that drive growth:
🔹 Acquisition Financing: Looking to acquire a new business or asset? Our tailored acquisition financing options provide the capital you need to make strategic moves with confidence.
🔹 Business Line of Credit: Need flexible access to funds? Our business line of credit offers the liquidity you require, allowing you to draw funds when needed and pay back on your terms.
Small business success starts with the right financial partner. Explore our innovative lending solutions designed specifically for the unique needs of forward-thinking entrepreneurs. Contact Us to find out how Chiles Capital can be the catalyst for your next business milestone.
SBA Loans: Expertise in the Process
Navigating the maze of SBA loans? With Chiles Capital, you've got an expert guide:
🔹 SBA 7(a) Loans: Ideal for a range of business needs, from working capital to equipment purchase. Our team specializes in the SBA 7(a) program, guiding you through eligibility, terms, and seamless application.
🔹 504 Loans: Looking to buy commercial real estate or heavy equipment? The 504 program could be your perfect match. With favorable terms and rates, we'll help you navigate the intricacies of this specialized financing option.
Trust in Chiles Capital for your SBA loan needs. Our tailored approach ensures that we find the right loan for your unique business goals. Contact Us to discover how we can facilitate your success through SBA lending.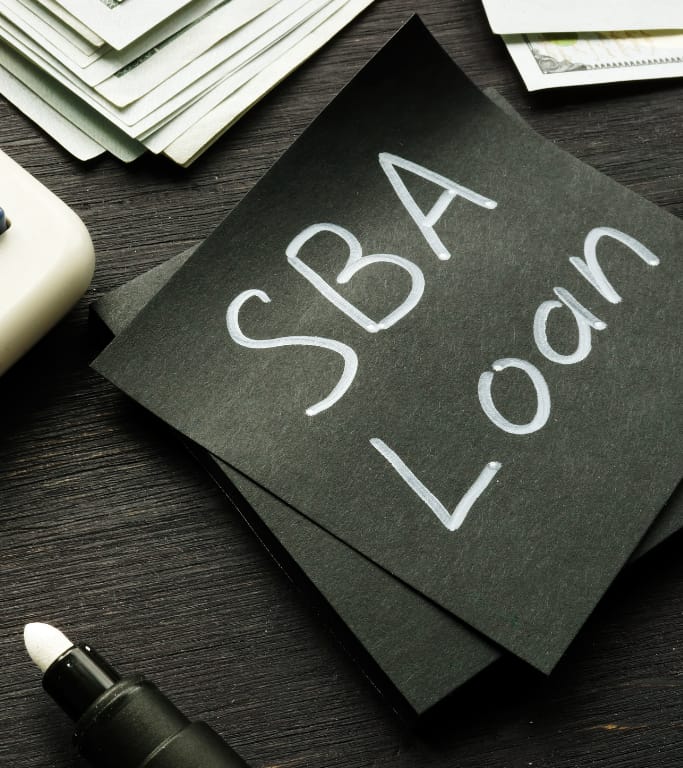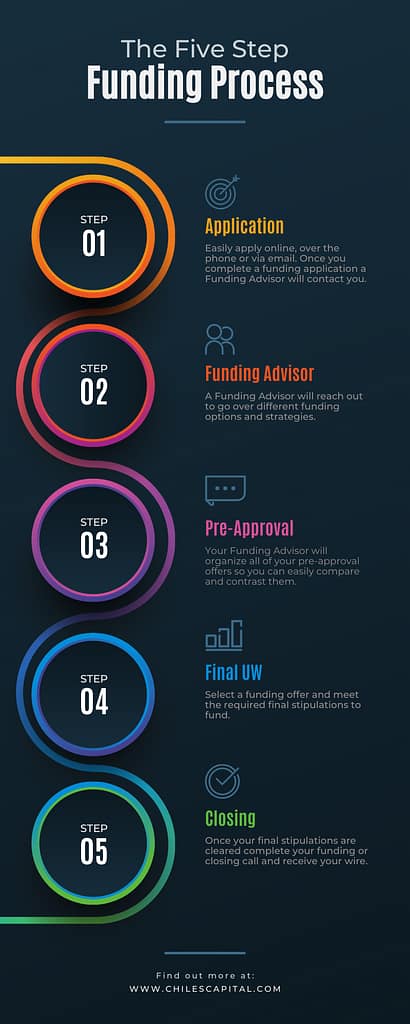 How Our Loans Work
1– Application – You can complete our simple fast application online, over the phone with a funding advisor, or you can complete it at another time and submit it to us when complete.
2– Funding Advisor- Once we receive your application a funding advisor will be in contact with you to discuss the pros and cons of different funding strategies.
3 Pre Approval- Your Funding Advisor will organize all of your pre-approval offers so you can easily compare and contrast them.
4 Final Under Writing- Select a funding offer and turn in any additional documents that the underwriters have requested.
5 Closing- Once your final documents and any stipulations have been cleared complete your funding or closing call and receive your wire transfer.
What our clients have to say
"For any entrepreneur seeking innovative and flexible financing solutions, I can't recommend Chiles Capital highly enough. They're game changers in the world of commercial financing."
Dominic Sullivan